Announcing the start of Japan's first Science in Mountain Studies-specific master program! (from April 2017)
Master's Program in Mountain Studies is a postgraduate course created and offered through the collaboration of four universities: the University of Tsukuba, Shinshu University, Shizuoka University, and the University of Yamanashi. The aim of this program is to cultivate people capable of addressing the specific needs of mountainous areas, including those related to environmental issues and sustainable ecosystem management. The Master of Mountain Studies degree will be conferred upon completion of this program.
Program Aims
Train people who can contribute to finding solutions for problems associated with natural variation and human activity affecting the geosphere/hydrosphere, ecosystem, and natural resources of mountainous areas.
Train people who understand the above-mentioned problems specific to mountainous areas and are equipped with the knowledge and skills necessary for developing prosperous and robust local communities in these areas.
Train people who possess the discernment and dynamism needed to perform precise and targeted development of response measures based on a both broad perspective and specialized knowledge.
What is the Master of Mountain Science?
This Master Degree is conferred upon individual possessing demonstrated research skills and scholarship that help address environmental and other related problems in mountain areas.
Mountain Area Environmental Issues in Japan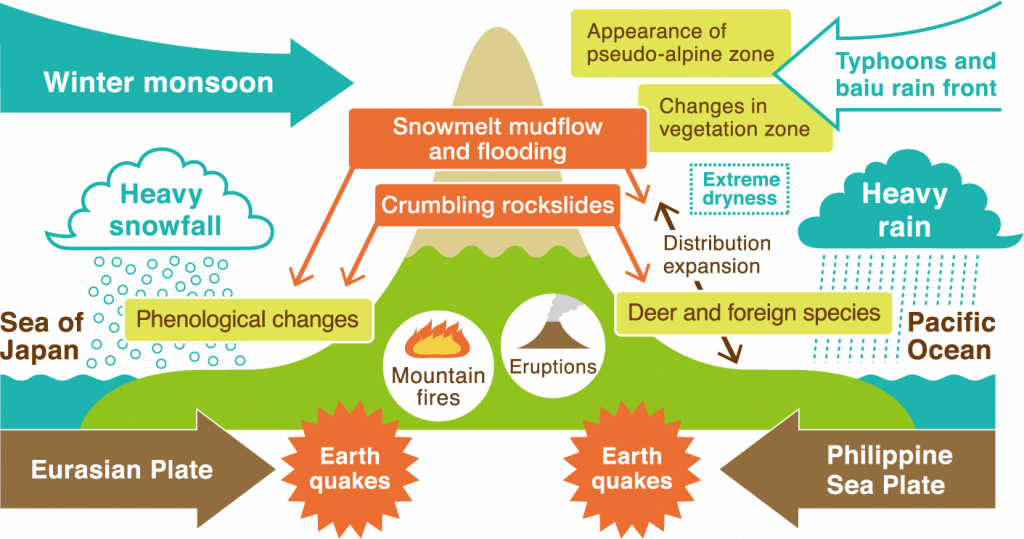 Mountainous areas provide forest, water, tourism, and many other resources that enrich our lives. However, these areas also face a number of challenges, such as the effects of depopulation and forestry industry decline on forest utilization and mesomountainous areas. More recently, mountainous areas are being affected by climate change, natural disasters, the loss of biodiversity and many other environmental problems which require us to think about how to ensure a sustainable relationship between human activities and mountain environments.
Science in Mountain Studies-related Fields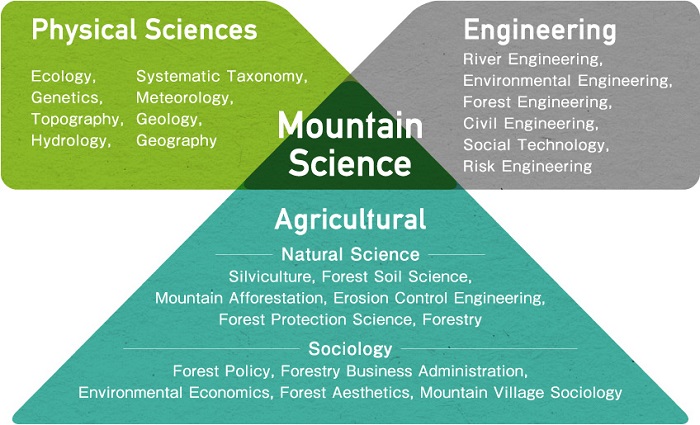 This program is a collaborative effort among different universities and majors that integrates various mountain science-related fields,such as Shinshu University, Shizuoka University, and the University of Yamanashi. Hands-on instruction and research activities are performed at a variety of field stations maintained by each university, for example, the Mountain Science Center (University of Tsukuba),Education and Research Center of Alpine Field Science (Shinshu University), and Regional Field Science Education and Research Center (Shizuoka University).
Promising Career Paths
Many careers deal with issues related to mountainous areas. These include a variety of careers in national and local governments, national research and development institutes, corporations, and at NPOs and NGOs.
Admissions Policy
We are seeking candidates with a strong interest in the phenomena and issues related to mountainous areas as well as the desire to contribute concretely to addressing them.
Candidates should have a basic academic foundation in the natural sciences or social sciences and a desire to acquire both specialized expertise as well as broad-based knowledge and skills across a range of domains related to mountain science.
We will accept candidates from a broad array of fields, including those already working in a field or occupation related to mountain science.
Curriculum Policy
To provide both the broad scope of education and high degree of expertise required for mountain environment conservation and management, specialized core subjects and specialized subjects are established. The student's thesis will be the final basis for the determination of learning outcomes.
In Introduction to Mountain Science, students will be led by experts from a variety of fields to undertake a systematic and global examination of issues related to mountain environments, thereby equipping them with a broad-based background and the ability to think holistically.
In Mountain Fieldwork, the educational research bases maintained by the four universities will be primarily used for fieldwork intended to equip students with the field-study skills essential to the study of mountain science. Situational assessment and data analysis skills will also be developed.
The Practical Skills subjects will equip students with skills essential in the working world and scientific community, as well as highly versatile and fundamental foreign language communication skills.
Specialized subjects will include subjects from three different domains (geological, biological and anthropological) as well as Science in Mountain Studies seminars and mountain science research common across all domains.
Specialized subjects within each domain will equip students with highly specialized skills and knowledge for specific fields. At the same time, student must take courses across multiple domains to cultivate interdisciplinary and practical creativity and the ability to identify important issues.
The Mountain Studies Seminars will employ the seminar format to impart cutting-edge knowledge, as well as develop students' ability to give presentations, ask questions, and discern patterns.
Research in Mountain science will be used to facilitate the preparation, research, and writing of each students' master thesis, all under the supervision of an instructor. Through this process, students will hone their conceptual, planning, execution, and verification skills, as well as their ability to write logically and scientifically.
Master Thesis Research Guidance Policy
Master thesis research guidance shall be carried out by one primary advisor and two or more secondary advisors, with at least one of the secondary advisors belonging to a different than the primary advisor's university.
Interim evaluations (first-year students) shall be carried out by the primary advisor, secondary advisors, and an instructor from a different specialized domain than primary adovisors.
Final evaluations (second year students) shall be carried out by a thesis examination committee composed of teaching faculty from the relevant university.
Interim and final evaluations shall be carried out at a combined annual reporting session, or other similar occasions, run by the relevant university.
Diploma Policy
Does the thesis theme demonstrate an appropriate scientific understanding of the issues facing mountainous areas, and does it contribute to concrete solutions?
Was there sufficient review of the existing research and sociological background, including relevant measures and government policies, and is the originality and importance of the thesis theme clearly demonstrated?
Were the restults based on verifiable data and primary sources: were they presented, analyzed, and considered in a sufficiently logical manner: and was the feasibility for resolving the issue demonstrated?